A few Friday's ago while searching for cherry blossoms for a
Friday Five
post I came across and featured Meredith's >>>amazing<<< cherry blossom beaded box. I am in awe of her talent and patience that she puts into her designs. She has agreed - and was so kind to take precious time out of her day and do a shop interview for us...yippeee! So - friends, please welcome Meredith Dada from
Meredith Dada
on Etsy.
Name 3 random things about yourself:
1.
I am a terrible gardener; my home is where plants come to die.
2.
I make an awesome butternut squash lasagna.
3.
I have a very real and irrational fear of clowns.
Where are you from?
I am lucky enough to live in beautiful Ojai, California. Nature is a big inspiration for me and it shows in my work. Thankfully I don't have to go very far to find it!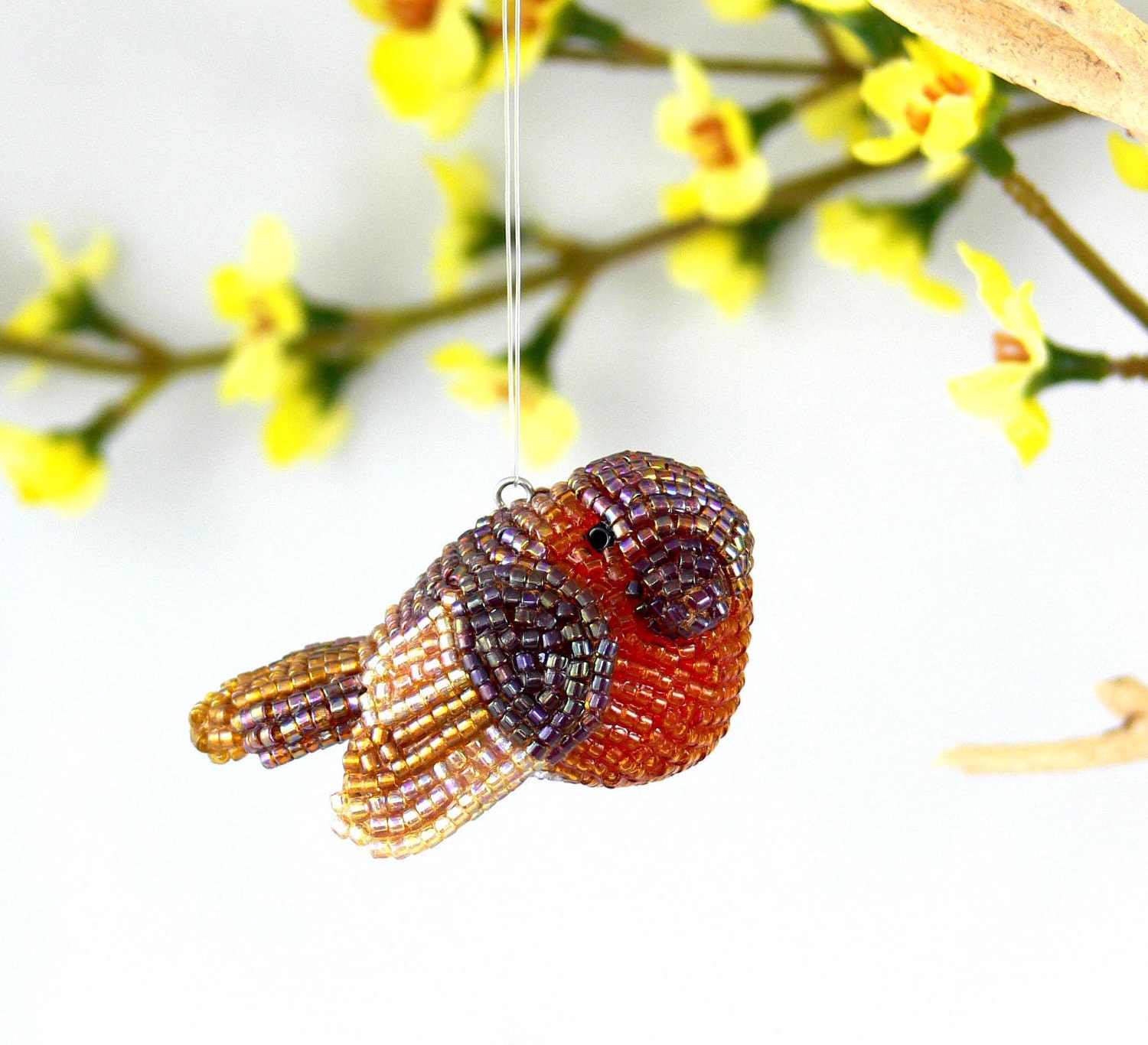 Red Breasted Robin Beaded Ornament
Name the first word or image that comes to mind:
Orange Blossoms. My orange tree is right outside, it has just started to bloom right now and the sweet smell is wafting through my window. Ojai is full of orange orchards, during April and May all of the orchards around my house are covered in blossoms. Soon the whole town will smell heavenly, it's my favorite time of year here. Last year I made a couple of beaded bowls with orange blossoms on them, and I am thinking it is time to make some more!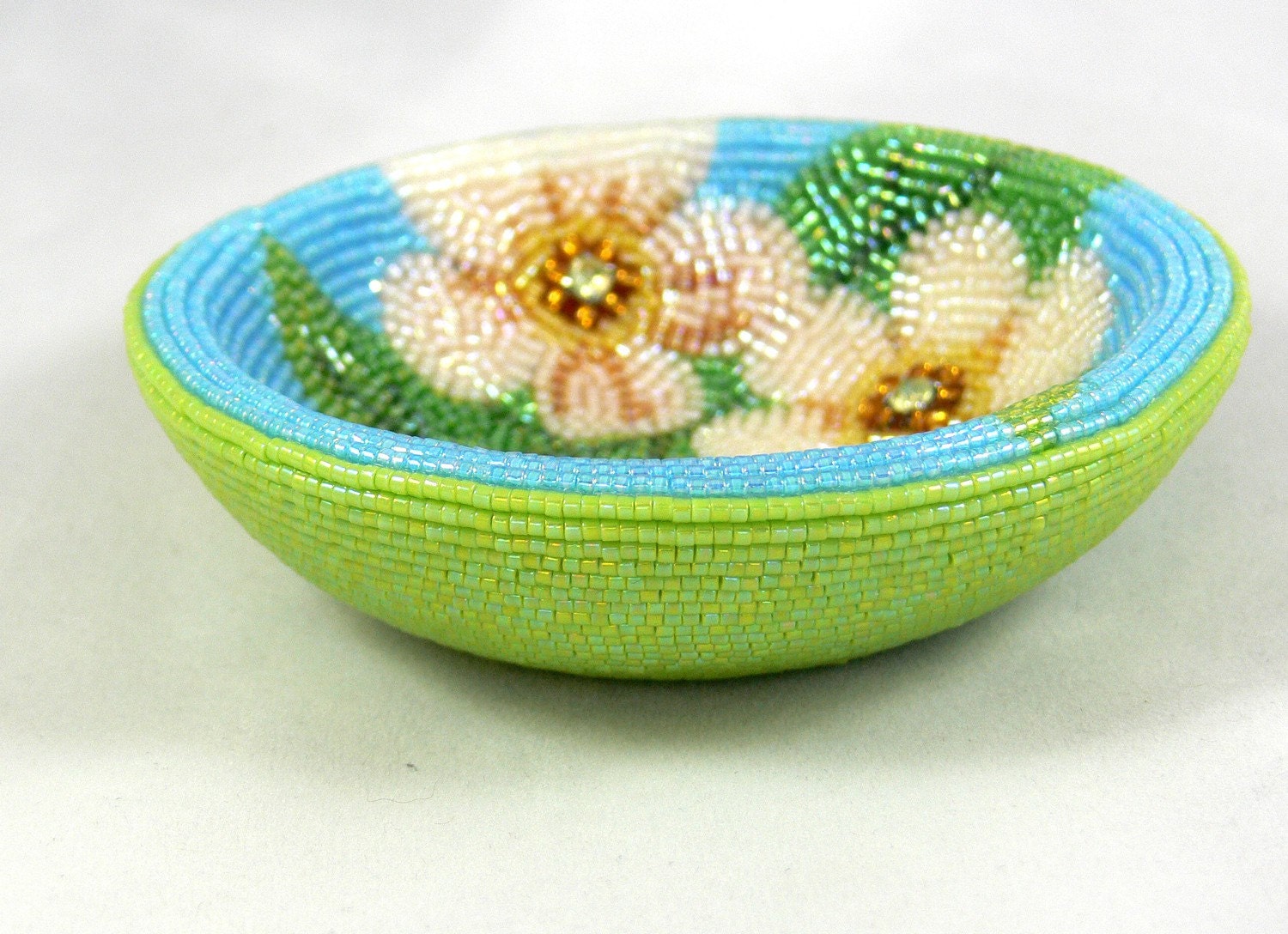 Decorative Bowl Orange Blossom Beaded Jewelry Keeper Trinket Ring Dish, Sold.
What's your favorite part of running an Etsy shop?
I love the personal interaction I have with my customers. I love that I can work one on one with a bride and design a wedding cake topper for her most special day. Knowing that I am making a lasting keepsake for someone is just such an honor. I get to hear personal stories about why they want a particular bird ornament and the special meanings behind their purchase. Sometimes I even get to see pictures of my work in their homes or read glowing feedback about how happy they are with one of my little beaded items. Etsy gives customers that direct access to the artist that they just don't get when buying from a gallery or boutique.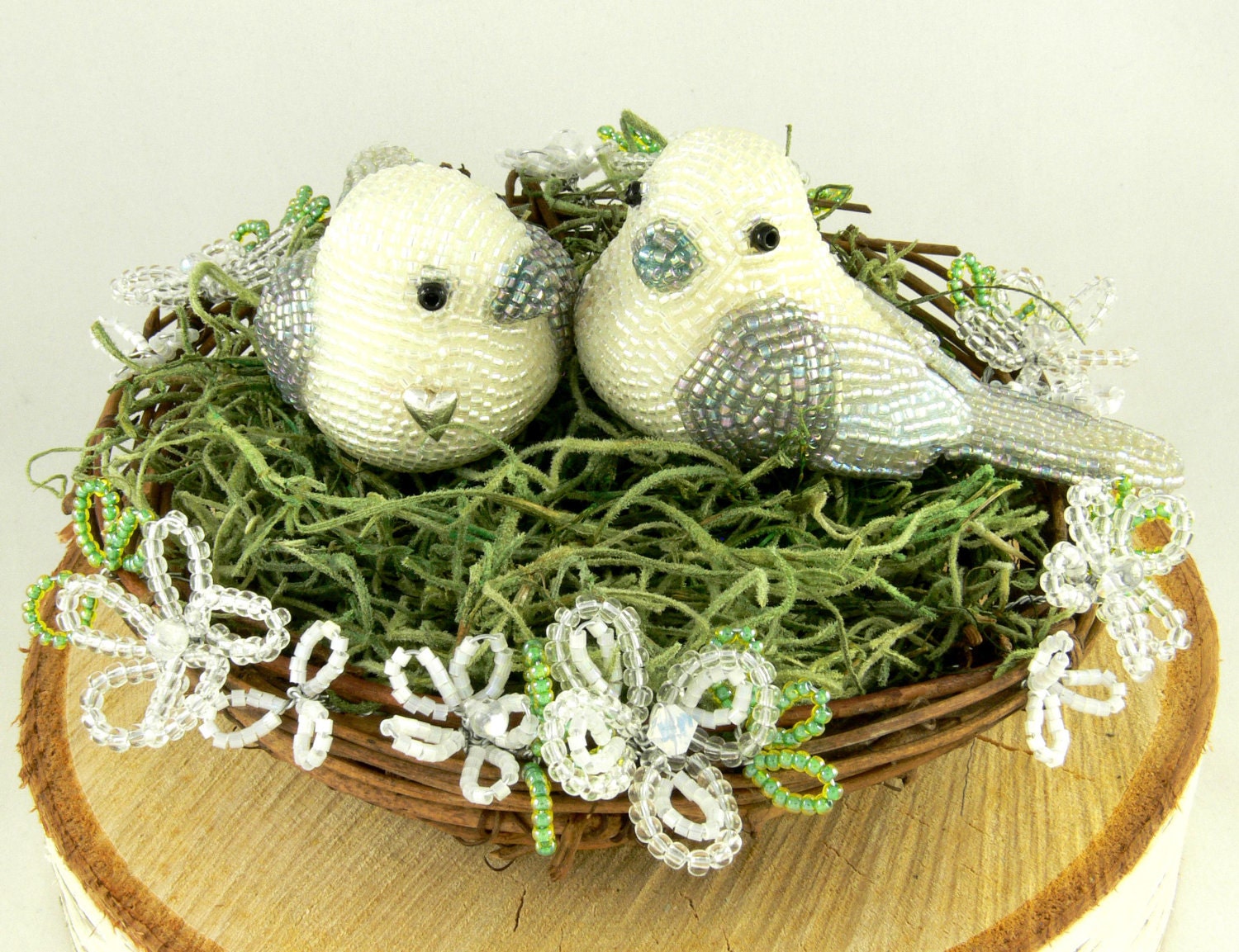 Bird Cake Topper Beaded Love Doves in Rustic Twig Nest with Beaded Flowers
What made you fall in love with Etsy?
I fell in love with the community on Etsy. When you first open a shop it can be a scary and overwhelming thing. I had no idea what I was doing when I started, but I reached out to the community of other shop owners. I was blown away by the kindness and advice I received from some of these wonderfully talented folks. To my surprise I have also gained lasting friendships with people I've never even met from all over the world.
What comes easiest for you pertaining to your shop?
Creating new items is the easiest for me. I have so many ideas there isn't enough time to make everything I want to. The mentors at Etsy recommend adding new items to your shop on a regular basis to gain more views and ultimately more sales. That has never been a problem for me; I just wish I had a few more hours in the day!
Owl Ornament Snowy Owl Beaded Clip on Figurine
Do you prefer to create or 'run the business'?
I prefer to create, hands down! That is my passion, creating something new out of beads, glue and clay is what excites me. Running the business is something I am still getting used to. In order to create I must buy supplies, beads, glue, clay etc. The business end of things is necessary, and it's a tricky balance to maintain. This is kind of silly but when I am feeling particularly bogged down by the businessy part I remember this quote from Harry Connick Jr in the movie "Hope Floats":
"You find something you love and you twist it and torture it and try to make money at it.
And at the end, you can't find a trace of what you started out loving."
My goal is to NOT let that happen!
Are you super neat and organized in your craft room?
Oh I wish I could say yes! I wish I could tell you that I am uber organized and my studio looks like Martha Stewart designed it…but it doesn't. I keep it clean and most importantly I try to organize my beads or it would be total chaos. When I am in the middle of a project I am so focused on what I am creating that I just go for it and clean up the mess later. What is your favorite material to work with? Beads, beads and more beads! I mainly use size 11/0 seed beads, they are my favorite and they come in an endless amount of colors. My little jars of beads are like jars of paint to me and my tweezers are my brush!
What is your favorite listing in your shop?
My favorite item is my beaded box. It was a labor of love and took over three months to complete. I was inspired by a trip I took to Japantown, San Francisco, the cherry blossom art there was so beautiful I started designing this pieces as soon as I was back in the studio.
What are your favorite flowers to receive?
I love dahlias; they are so big and colorful. They seem like such happy flowers.
What is your favorite sweet snack?
Trader Joe's makes this "Dark Chocolate Covered Powerberries" mix that I just love a little too much!
Where do you see yourself in the next 5 years with your business?
I hope in five years I am still creating everyday and growing my business. My son would be about 8 years old (yikes that's kind of scary!) and as he grows and goes to school on a more full time basis, I will have more time to devote to my work. I would like to see my own website grow and be sucessful along with my Etsy shop. In five years maybe I can hire an assistant for some of the not so fun business stuff… a girl can dream can't she?
If you are looking for Meredith elsewhere you fan find her here:
Facebook
Blog
Twitter